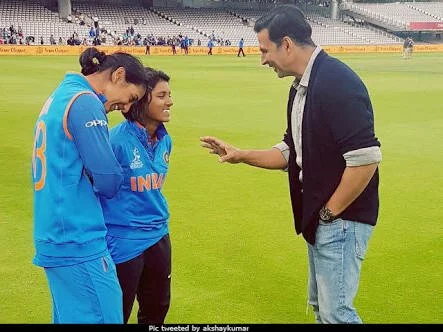 Even though the Women's Cricket Team of India got constant wins and prestigeously reached the finals where they lost to England by 9 runs, their outstanding performance did not receive the kind of popularity and applause which they totally deserved. There were majority Indians who were completely ignorant even in the booming era of social media.
But our Bollywood personalities gave their heart out to cheer for these  Cricket stars and encouraged them throughout and even after the end of the tournament. Below mentioned are the tweets from our very beloved Akshay Kumar who did not leave any opportunity to commemorate the teams feat.
*Before the match – ' _This is how excited I am, never in my life have I run for a train barefoot to make it in time for a match!! Come on #WomenIn Blue.'_
*During the match – _'Women In Blue we are rooting for you_ !' 
* After the match – ' _Even Broken Hearts can Laugh!! These women have started a revolution and I could'nt be more proud.'_ 
This proves how the National Award winning actor can be a motivating personality. Not only that, the actor has great respect for our tricolor too. He apologized for the picture he posted with the Indian flag stating, ' ‪ _Extending my sincerest apology for violating the code of conduct for the tricolor. Didn't mean to offend anyone,the picture has been removed_ .'  Don't we all adore him !
Others were not so behind about the same. Shahid Kapoor tweeted, ' _This team has woken us all up to women's Cricket in India. Great game girls. Almost had it.'_
Preity Zinta who adores her IPL team Kings XI Punjab tweeted, ' _Sad 2 see India lose today but very proud to see the girls make it 2 the finals. Hard Luck.'_
Kudos to these personalities who stood up for the team who made us proud.
Comments
comments