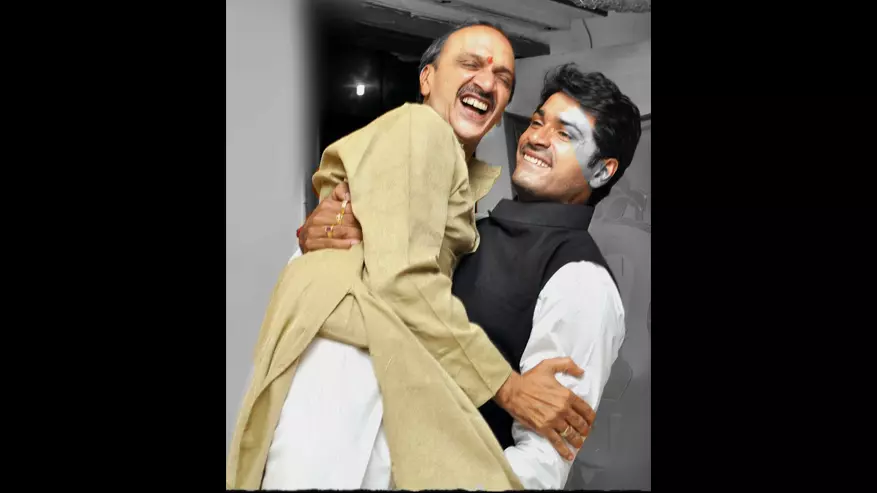 We may say it often or we don't, but the fact remains that fathers are always our heroes. Some of us share a close bond with our fathers. For fathers or kids, who are not so verbal in expressing feelings, this day gives a chance to tell our dads know just how much we love and respect them. It's a fact that they affect our lives and inspire us tremendously. So, this Father's Day, we asked some of the top TV stars on what their plans were for Father's Day. Here is what they had to say…
Dalljiet Kaur: My father's name is Retd. Col. Avtar Singh. He is my hero, my idol, my friend and my inspiration. He has taught me the meaning of living a simple yet fulfilled life. He always seeks happiness in small things in life which has left a strong mark on me. You will see me giggling and laughing even when I have nothing, because as long as I have my family with me, I don't need anything. He has taught us all the true meaning of family. My dad taught me to be a man when it came to loving life. Today that I'm brave and confident, it's all thanks to him. Us three sisters were given wings to fly and we were allowed to dream big, that's why my sisters served the in the army like him and I became an actor. Thanking him would be silly because he gave me everything I have today. I love and respect him more with every breath.
Hasan Zaidi: My father's name is Humayun Zafar Zaidi. Whatever I am, it's because of my father. All of his friends and our relatives say that I look like him, and even our mannerisms are similar. My father was an English professor and a renowned Urdu poet. He worked with BBC in London and his articles are in the world encyclopaedia. He had thousands of books which I still have. He wrote very well and travelled widely. He was one of the most practical people I've ever come across and he stayed cool in the face of adversity. He was my superman and he passed away 7 years ago. He was my best friend. We used to talk like 4 to 5 times a day, and there is no doubt that I don't miss him. My only wish is to carry forward his legacy and take care of the family, being the eldest. I have learned everything from my father I love him and I miss him all the time I hope that I can be at least just a patch like he was. We have shared so many happy memories. I remember the first time I drove the car sitting in his lap, listening to his favourite band Boney M, which became my favourite too! I also remember when I told him about the girl I love, who is now my wife Kristina. He immediately told me that we would go to Austria and talk to her parents and I should not worry at all. The day I got married was the happiest day of his life. I wish he could have seen my daughter. I was the only one in the hospital when he passed away because I had sent my family home. I was there in the hospital with him, holding his hand. I remember my mother telling me that when I was born he had a dream that there was a light in the sky which told him that this boy was very special. I miss him terribly.
Vahbiz Dorabjee: My father has influenced my life in a very important way. He is the best thing in my life. He is my anchor and my backbone. I don't think I need to look up to any hero in my life because I have an idol in my house. Recently, when I also turned entrepreneur like my father, I realized how much I have learned from him. I learned to be a risk taker, confident, bold honest in how I communicate. I didn't alwatys know how to do business, but I am learning, and observing him has helped me tremendously. This Father's Day I would like to tell him that I love him and I want to thank him for being there and thank him for being such a good example and such an idol. Thanks to him, I am learning to live life.
Jayashree Venketeramanan: My father and I share a very sweet, said unsaid bond. We communicate with our eyes. While we have never shared a lot of things verbally, he always reaches out to me whenever I am in difficulty; you can call it telepathy. I always feel blessed and I have started thanking my stars more often now for my dad being there for me. I remember my first show's poster, which was all over the newspapers and TV channels. He called me and started crying. He told me he was so proud of me. Before that, I had never shared a moment like that with him, not even in school, so that was special. I can never think and thank him enough for what he has been all these years. Just be by my side always. I have learned to tackle tough people with utmost patience from him.
Shakti Arora: My father has been a great support. He is a very well learned person. A lawyer by profession, he has influenced me to study hard even though I was not a bright student. He has always been a great support and helped me in my studies. My most cherished memory with him are the annual trips we would take at different places in India. He was such an explorer and made us do fun things, but since my sisters are married now and he is too old to travel, we can't do it anymore. I want to tell him on this Father's Day that, even though we are not vocal about our emotions with each other as both of us are really shy, he has been a backbone of my life and I love him forever. The best thing I have learned from him is that he is a very patient guy. He is always calm and composed and I try to imbibe that quality in me as much as possible.
Shardul Pandit: My father's name is Jayant Pandit. He is the most hardworking and committed man I know. He was always unwell but never quit or shunned his responsibilities towards us or the family. He never indulged in his life and only worked to give a better life to his kids and family while battling Muscle Antonia all his life. Most of all, he is the most loyal man to my mother, which is what I love about him. I have learned not to give up and fight against odds from him and to stay faithful in life.
Shashank Vyas:  My father's name is Vikas K. Vyas. He was the first person who supported me when I told him what I want to do in life. My father never stopped me from doing anything, because he has full trust in me, and in his upbringing. Whenever I feel low in life, he is the only person who motivates me. He also keeps me grounded and doesn't let the fame get to my head. I remember as a kid, I used to visit his office and the peon and his staff would praise him for his friendly and supportive nature. I copied that. He gave freedom to be myself, and he deeply believes that his son will never do wrong to anyone. My father is a simple, healthy man who taught me the value of money. Even after having enough money, he lives a very average, middle-class life. He is earthy and easily connects to every age group of people. Sometimes, he misses his life partner, but I don't interrupt in that space. He does the same when I miss my mother. I share a friendly bond. He is for me and I am there for him.
Gunjan Utreja: My father's name is Krishan Gopal Utreja. The best gifts I have ever received from my dad are his values and attitude towards life. He has always helped others, regardless of his own circumstances. He has always taught me that "it is not important to do what everyone else is doing. I should follow my own mind and heart, and for that I am forever thankful to him.
Ssharad Malhotraa:  My father's name is Sushil Malhotraa. More than just being a father, he is my confidante, my buddy, my partner in crime and someone I can pour my heart out to whenever I want to. He is my superhero and my one true source of inspiration. He taught me how to work hard, to care about others and not to focus on only myself. I'm still learning those lessons, but I can't imagine a better role model to help guide me. I look forward to sharing many more years of happiness together. All of us have grown up listening to our fathers 'golden' bits of advice, most of which we did not like hearing when we were kids. But now, we find that very valuable. I remember, as a kid he always used to get something when returning from work — be it a toy, a candy bar or anything that brought a smile to my face. I remember my father getting up at dawn and taking me for my cricket practices at school. He has always been there in my best and in my worst moments and has always talked me through them and helping me become a better person in the process. This Father's Day, I want to tell him that I am blessed to have a father like him.
Rohan Gandotra: My father's name is Sunil Gandotra. My relationship with my father is very casual. We are like buddies with each other, because he doesn't look his age! My dad is someone who never expresses his feelings, but that's how dads are. Whenever he misses me, he just calls me and talk about random stuff; something that I love about him. During my childhood, he was very strict. My elder brother and I were both scared of him. I remember once incident, when I have just learned driving. Somehow, I banged my car despite driving for many days. I got a tight slap that day. But when I started crying, he immediately hugged me and gave me motivation and confidence again. So, the best part of it is that even if your parents are strict with you, it's for you to learn something in a better way. At this age, I literally tell my mom and dad that it was good they were strict with us, which helped us grow up and become sensible people.
Mrunal Jain: My father Shailesh Jain is backbone of my life. whatever I am I am because of him. He has brought me up giving me my business sense and roots. I am grateful to him as he has gone through lot of hardships too and has supported me in all my endeavours.  Ilove you papa and I want to tell you I am the most lucky person on earth to have a father like you.
Rohit Purohit My father Ashok Kumar Pareek  has influenced my life in a lot of ways…he is the person who inspired me to become what I am today…he is not one of those fathers who will make you sit with them and teach you things rather heis someone who taught me things by doing them himself.. He is the most hardworking, calm, composed and the honest person I have ever come across…apart from his personal traits there is lot to learn from his work ethics as well. There are a lot of them and it's not easy to choose one particular memory because every single second around him is very special, such vibes he has. The only message for my father is that "wherever and whatever I am today is just because of you, .if you would not have supported me I wouldn't have been here dad. I still remember your sacrifices; you have been the biggest strength. I  love you more then I have ever expressed."
Comments
comments